Winter can be enchanting… until the snow blocks your driveway. That's where Oakes Entretien comes in with our residential snow removal service. We make your daily life easier during the cold season.
Your safety is our priority! We offer fast, efficient service to make your driveway accessible. Our modern equipment enables us to handle all winter conditions, and our experts work hard to get you off your property with ease.
Oakes Entretien respects your property. Our snow-clearing methods are designed not to damage anything. We remove snow from your driveway without damaging your lawn or paving stones.
We're available all winter long. Whether the snow falls during the day or at night, we're ready to take action!
Our residential snow removal service is flexible. We offer several options to meet your specific needs. Whether it's a one-off snow removal job or a seasonal contract, we've got the solution.
Keep in touch with our team in real time
We simplify your winter with our snow removal service tracking application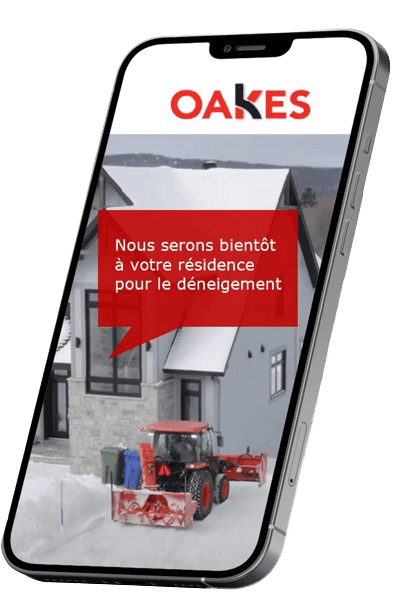 WELL-MAINTAINED EQUIPMENT
Our equipment
at your service
Our latest-generation equipment is always well-maintained, so we're ready to serve whenever the weather calls for it! What's more, our shovels are equipped with Teflon strips to protect the surface of your driveways.